Canva Pro Lifetime Subscription
In today's visually-driven world, creating stunning graphics and designs is a must for businesses and individuals alike. With Canva Pro, you gain access to a treasure trove of design features that will take your creative projects to new heights. Whether you're a seasoned designer or a beginner, Canva Pro has something to offer everyone. Let's delve into the exciting features that make Canva Pro the go-to design tool for professionals and enthusiasts.
Process To Upgrade Your Canva Account With Pro Features
First you have add to cart the product and checkout it successful, After you have to send your email on WhatsApp, that you are using for canva. After verification you order your account will be upgrade with Canva Pro. Its get maximum 10 minutes.
Limitless Templates
Canva Pro opens the door to an extensive library of templates. From social media posts to business cards, infographics to presentations, there's a template for every project. You can easily customize these templates to suit your style and needs, saving you valuable time and effort.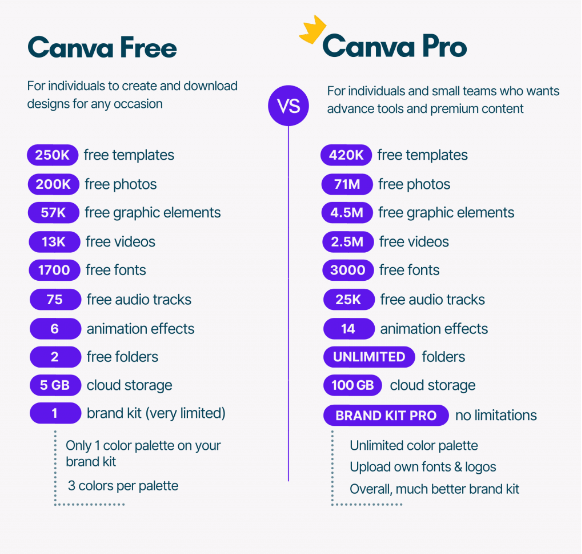 Brand Kit
Consistency is key in branding, and Canva Pro's Brand Kit ensures your designs are always on-brand. Upload your company's logos, fonts, and color palettes to maintain a cohesive look across all your creations.
Magic Resize
Save hours of tedious resizing with Canva Pro's Magic Resize feature. Transform your designs into various formats with a few clicks, ensuring your content is optimized for different platforms and devices.
Background Remover
Easily remove backgrounds from photos and make the subject of your image pop. No more struggling with complicated editing tools – Canva Pro simplifies the process.
Transparent Backgrounds
Create logos, icons, and graphics with transparent backgrounds to seamlessly integrate them into your designs and make your content stand out.
Pro Elements and Images
Access a vast collection of premium elements, photos, and illustrations to elevate your designs. Say goodbye to watermarked images – Canva Pro gives you access to high-quality visuals for a polished finish.
Collaborative Workspace
Collaboration is made easy with Canva Pro. Share designs with team members or clients and work on them in real time. Comments and feedback can be added directly to the design, streamlining the creative process.
Priority Support
With Canva Pro, you'll receive priority customer support, ensuring that any questions or issues are addressed promptly.
Publish and Schedule Social Media Posts
Save time and stay organized by creating and scheduling social media posts directly from Canva. Plan your content ahead of time and maintain a consistent online presence.
Download Designs with a Transparent Background
Export your designs with a transparent background, allowing you to use them in various applications without worrying about white or colored backgrounds.
Canva Pro is your all-in-one design solution, offering a powerful toolkit of features that empower your creativity. From professional design assets to collaboration tools and time-saving features, Canva Pro is a game-changer for businesses, marketers, designers, and content creators. Don't miss out on the opportunity to unlock your creative potential – upgrade to Canva Pro today and watch your designs soar to new heights!