Create Quiz For WordPress
Friends, today I have brought WordPress quiz system for you, which you can insert in your website or blog to improve the impression of your website and reduce the bounce rate.
If friends, you also run a website or blog on Google, then you must want that if any visitor comes to your website, then I should spend some time on your website so that your bounce rate can be corrected, and your Blog or website can ring well on Google.
So today we have brought for you a very easy and simple quiz code which you can easily put in your WordPress website or blog and website and generate a good user experience.
How To Create Quiz in WordPress
There are many plugins available today to install quiz system on WordPress, but we want to install a simple and user friendly quiz system on our website so that your website speed is not affected. Because if we install many plugins in our website, then the loading speed of our website becomes very slow. So today I am going to tell you the solution for the same.
Here you get a simple HTML code which you can add to your website post and create a simple quiz system. You can copy and paste it in each post and you can also select the question and answer you want here.
For your information, let me tell you that there is a well-known a popular website (www.testup.in) in India, which is a simple quiz blog, which earns lakhs of rupees per month only through quizzes. You can also put quizzes on your website in the same way. You are going to get this HTML Quiz Code at a very reasonable price.
Quiz Demo in WordPress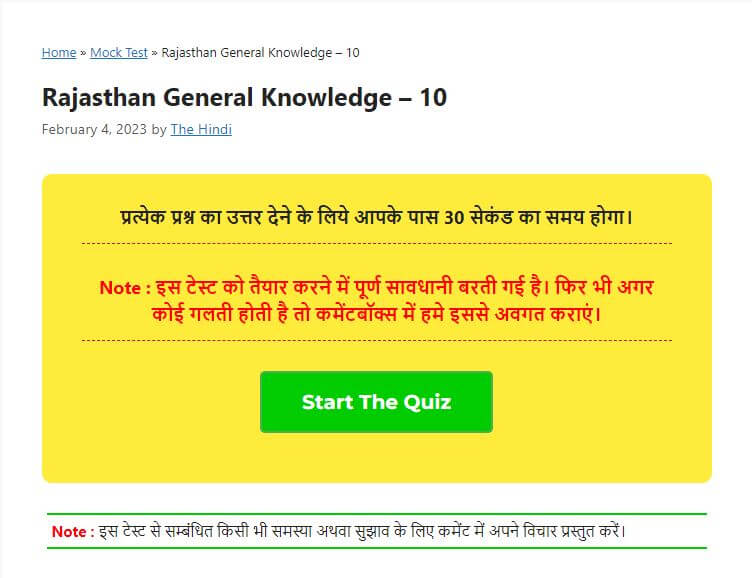 Quiz Option
Quiz Result
Benefits Of Online Quiz
Online quizzes offer several benefits including:
 Online quizzes can be taken from anywhere with an internet connection, allowing for flexibility and convenience for both the creator and the taker.
Time-saving: Online quizzes are quicker to create and take compared to traditional paper-based quizzes.
Increased engagement: Interactive quizzes can increase engagement and motivation for learning.
Data collection and analysis: Online quizzes can automatically collect and analyze data, providing insights into student performance and areas for improvement.
Cost-effective: Online quizzes are a cost-effective solution for assessment, eliminating the need for paper, printing, and grading costs.
Improved assessment accuracy: Online quizzes use randomized questions and instant grading, reducing the potential for human error and improving assessment accuracy.
I hope you have liked this article, if you have any question related to the article, then please tell in the comment box below. Thank you.