Hello friends, if you want to make a news website inside the blogger and if you are searching an attractive news template for blogger then this post is can be very beneficial for you, friends in this post we have Tried to cover 10 best blogger templates for news here, which is the most popular and most used in blogger website, so what are the templates, so let's know about them.
Best Blogger Templates For News And Magazine  
What is the parameter to select a good template: how can you select a good template for your website. I have covered some point, It helps you choose a good templates.
The template should responsive.
Fast loading.
SEO Friendly.
Attractive Design
Compressed HTML & CSS
Fast Loading Speed
Dropdown navigation menu bar.
User-Friendly Interface.
Good Heading Style.
Inbuilt with Rich-Schema.
Comment Box.
Grid Layout.
1. Pixy Newspaper 11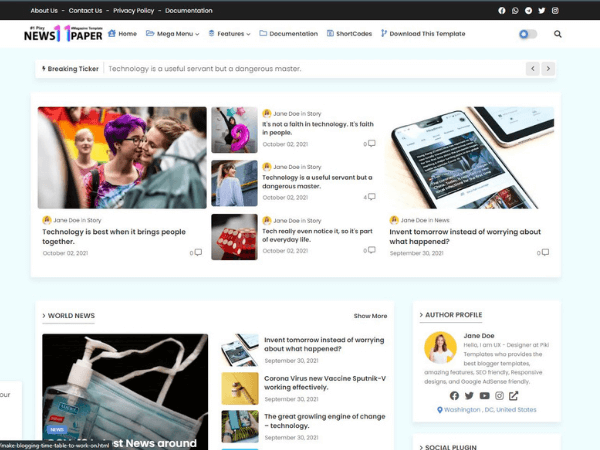 The Pixy newspaper 11: template is created specifically to meet the demands of bloggers. Blogger is the only place where you can find a variety of sophisticated features. In Blogger, you may use a variety of advanced gadgets to make your website appear more professional, clean, and attractive. The best sliders are offered in smooth scroll with slow load pictures, which improve the moderate loading speed. This responsive and friendly template has a quicker loading time and is fully SEO friendly. Responsive design is essential these days since it will instantly adjust to any screen size, such as a desktop to a tablet or a tablet to a mobile phone, providing a terrific experience for your visitors.
2. SpotNews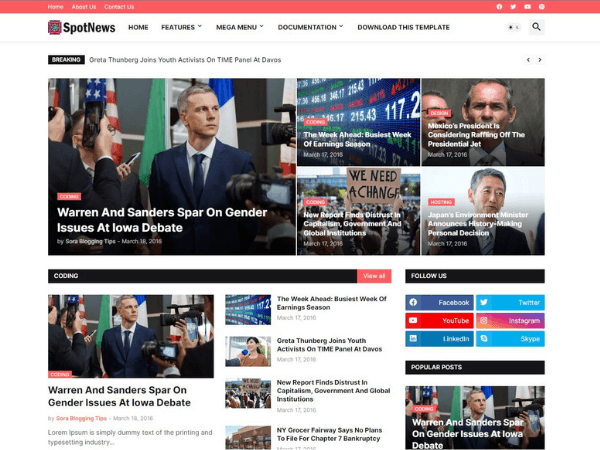 SpotNews: Blogger Template is a full-fledged multi-featured blogger template that contains all new blogger frameworks and unique structures. As we can see the features and functions of SpotNews which is a Dark mode that every user wants on their website, has an (Left to Right) function which helps the website to increase the user overall read timing on your website, Various Sections on the home page to display all types of text and video blogs in sorted and in a well-arranged manner. It has a number of customization options compared to other blogger templates where you can make changes in every single element easily. As it is Specially designed for trending niches like News, Sports, Food, etc.
3. Limitless News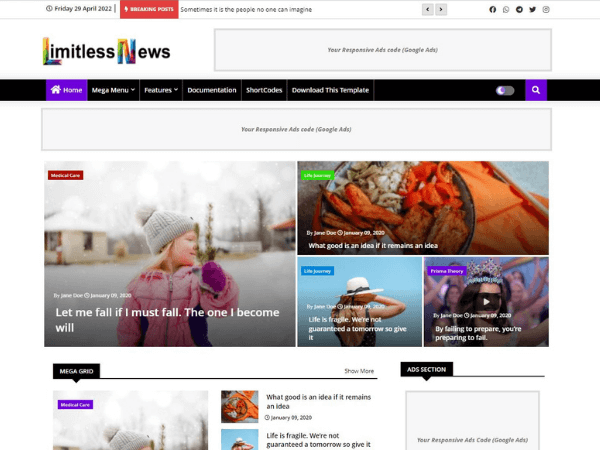 Limitless News: is amazing template with more clean and creative design all the featured post are designed this template support multiple shortcodes features. This template also having dark mode option you can also adjust related post number and their text email subscription text all the things can be managed in layout, template is more stable and much more advanced features implemented. More than gadgets available in admin pannel layout. Template is well optimised so that it loads faster on your blog
4. Paperify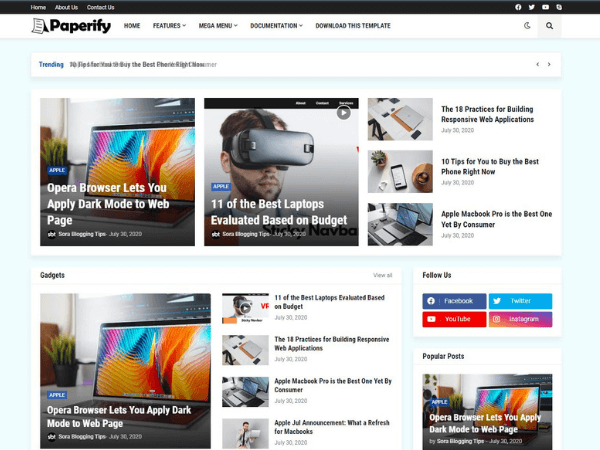 Paperify: Blogger Template is the new theme composed by templateify.com for multiple trending niches like News, Tech, Sports, etc. It comes with many new features for example dark mode, grid post, RTL version, Video category to display the videos of the blog, and several more further. The most advanced feature of the theme is that it is very easy to customize according to the users and the blog niche specifications. This single theme contains various types of widgets that surely help the user to arrange the article in a professional and sorted manner. As It has Numerous widgets then also it loads fast compare to other blogs. Paperify is designed by the updated algorithm of the blogger framework. It comes with a good SEO-friendly structure so that it will easily rank on all the search engines. This theme is fully responsive and easily arranges itself according to the different devices and their screen sizes.
5. Razer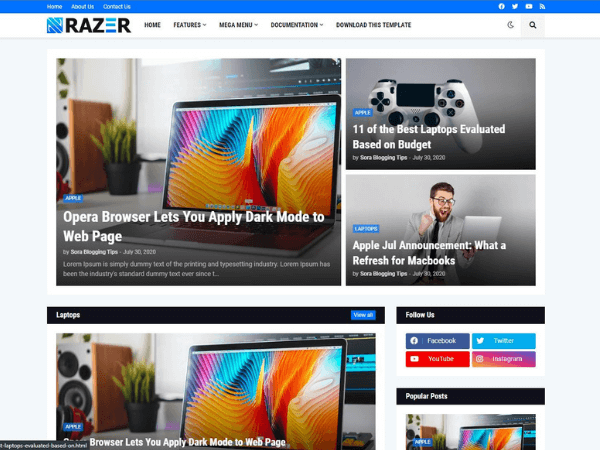 Razer: Blogger Template is perfect for those who want to create music, nature, business, fashion, snacks, technology, and video blogs. It contains many amazing features through which can make highly professional blogs. This theme contains a minimal and clean design. There is no need to have additional knowledge to set up or use this theme. It is user-friendly and super easy to use. Created with perfection this theme is going to serve you beyond your expectations with its outstanding and customizable elements.
You May Also Like:-
6. Newsiki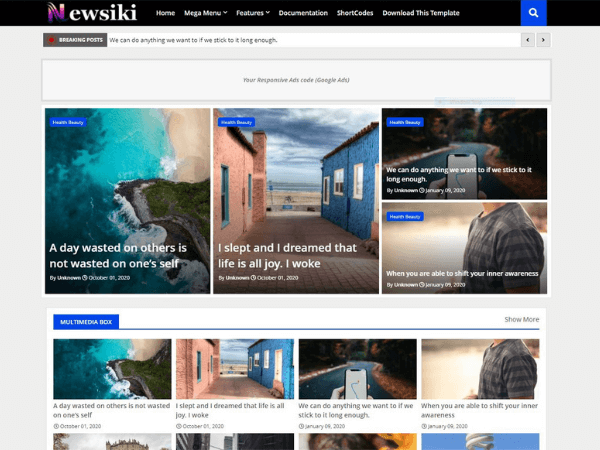 Newsiki template is designed with various advanced features and gadgets in this template you will explore various feature post gadgets with full width on the home page which looks great. We design this template to complete the requirements of the user.
In top home page there is also breaking trending post gadget. Then below there are various types of columns available to put your own shortcodes and much more features.
This template is faster loading and full AdSense friendly and SEO friendly design is responsive also shortcodes are supported in this template download this template and make your website
7. UltraMag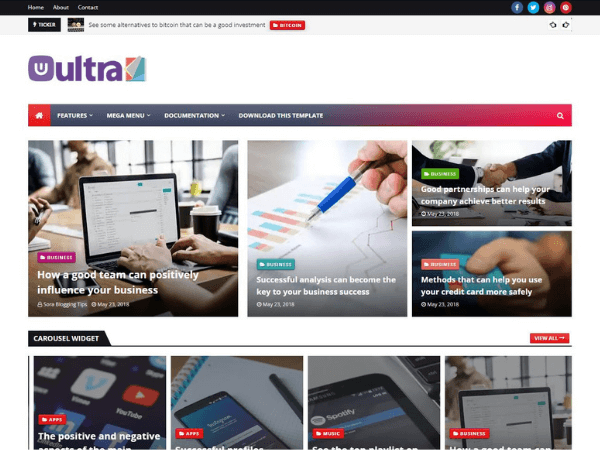 UltraMag Blogger Template is a magazine blogger theme that is super high in quality with a lot of advances and unique features. Loaded with unique elements and widget configuration you can give professional look to your blogs within a very short period of time. It is based on the blogger's new generation framework and contains a flexible coding structure which is highly beneficial in creating design according to your requirements. By adjusting the widget you can create various layouts. It is SEO optimized, high responsive, and provides fast loading.
8. Super Center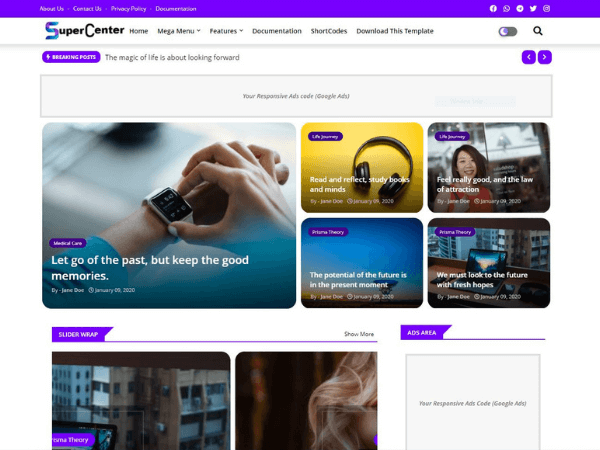 Super Center: is another great template with its amazing elegant look and fast-loading design this template also supports YouTube thumbnail automatically gives the font awesome icon which looks pretty nice, the main header is flexible using display flex command which minimizes the logo to stop crashing logo in low screen resolution devices. Further various improvement has been implemented with the latest coding and CSS tags. This template is fully SEO Friendly and Google Adsense Friendly download now and use it on your blog and make it professional This template also having dark mode option you can also adjust related post number and their text email subscription text all the things can be managed in layout, template is more stable and much more advanced features implemented. More than gadgets available in admin pannel layout. Template is well optimised so that it loads faster on your blog
You May Also Like:-
Best Blogger Templates For Quotes >>